R.W.Bro. R. James Stewart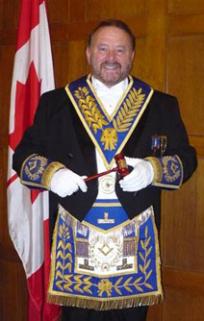 R. James Stewart was born and raised in Hamilton, and has strong ties to the community. Jim has been married to Elaine for the past 39 years and they have 2 sons. Jay his oldest is married with 3 children and lives in Thunder Bay. Ron his youngest is married and lives in Mississauga. Ron is currently the Junior Deacon, and Jim's brother Bob is Junior Warden of Corinthian Lodge No.513.
R.W.Bro. Stewart was initiated, passed and raised in Corinthian Lodge No. 513 in 1982, and served as the Worshipful Master in 1992. Jim is a 32nd Degree Scottish Rite Mason and a member of all three bodies of the Hamilton Valley of Ancient and Accepted Scottish Rite of Freemasonry of Canada and is currently an officer in the Hamilton Sovereign Chapter of Rose Croix, holding the office of Prelate. Within Hamilton Masonic District "C", Jim has served as the Chairman of Inter District Events, Benevolence, Mentorship, and most recently Masonic Education.
Jim is employed by Horizon Utilities Corporation (formerly Hamilton Hydro) and has been there for 33 years. He is currently the Manager of the Overhead Lines Department for the Hamilton and surrounding area.