R.W. Bro. Peter C. Mouriopoulos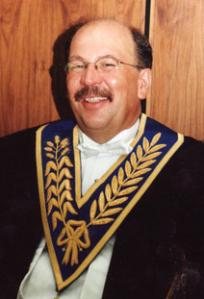 Peter was born on April 1st (Easter) in 1956 in Hamilton and was raised in the East End and Mountain. He attended Memorial Public School and Delta Secondary School and Sir Wilfred Laurier Secondary School, after which he went on to study, Commerce & Economics, at McMaster University.

In 1981, he married his sweetheart, Angela, and they were blessed with two children.

Peter's working career began at Dofasco. After leaving Dofasco he owned and operated Uncle Tommy's Variety, Subbies Submarine Sandwiches and Capt. K.C.'s Fish & Chips. He is currently with Primerica Financial Services since 1998.

He coached Basketball with Hamilton Basketball Association in the Hamilton area for about 7 years and was a Basketball Referee in the Hamilton area.

Masonically, Peter was initiated in The Electric Lodge No. 495 in Hamilton in February 1985 where he has always remained an active member as the Lodge Representative to the Masonic Foundation of Ontario. He was elected and served as Worshipful Master of The Electric Lodge in 1991; he affiliated with Valley Lodge No. 100 in 1995, where he served as Treasurer and Secretary of the Lodge. He was elected District Deputy Grand Master of Hamilton "C" District in July 1998.

He became a member of the Murton Lodge of Perfection A. & A.S.R. in May 1986; the Hamilton Sovereign Chapter of Rose Croix A. & A.S.R. in April 1987; and the Moore Sovereign Consistory A. & A.S.R. in May 1987.

He became member of St. John's Chapter R.A.M. No. 6 in April 1988.

In 1998, he attempted to establish a Chapter of DeMolay for Boys in the Hamilton Districts and served as Chairman of the Advisory Council, unfortunately the interest waned and the project was aborted in 2001.

Peter's son, Chris, was Initiated into The Electric Lodge No. 495 in April 2008, a very proud moment for him.