R.W. Bro. Jason D.S. McCulloch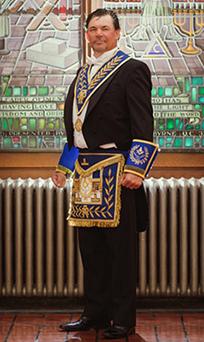 R.W. Bro. Jason McCulloch was born in Glasgow, Scotland and raised in the small town of Ayr in the county of Ayrshire. Ayr happens to also be home to the famous Scottish Bard, Robbie Burns.

After moving to Canada and becoming a permanent Resident in 1989; he was accepted to the University of Guelph where he met his lovely wife Anne. Anne and Jason now boast a family that includes son Michael and daughter Rowan. His chosen profession is commercial flat roofing where he is currently negotiating partnership in the business he manages.

Jason was initiated into Wardrope Lodge No. 555 and served as Master twice. He of course is now a member of Harodim Lodge No. 513. He has served on the district team as Chaplain for a few years and as Benevolence Chairman, Lodge Resources Chairman and Masonic Education Chairman.

He was initiated into Murton Lodge of Perfection, Hamilton Sovereign Chapter of Rose Croix and Consistory and received his 32nd degree. He currently serves as Prelate in the Officers line for Hamilton Sovereign Chapter of Rose Croix. W. Bro McCulloch was initiated into the Holy Royal Arch and received his Royal Arch Masons degree and is a member of St John's Chapter No. 6. He has since been initiated into The Godfrey De Bouillon Preceptory and has been Knighted a Knight Templar.

Jason has a passion for Masonry and the work and the lessons that Masonry inculcates. He has been looking forward to this next stage in his life for some time and he plans to continue in the long line of excellence paved before him by past District Deputy Grand Masters.